I have a fedora-style hat block with dimples already carved into the block. How do I get my material to take the shape of dimples in the hat block?
Get your material to take the shape of the fedora dimples in your hat block by considering the following. When tackling shaped fedora or trilby blocks with dimples, then it's a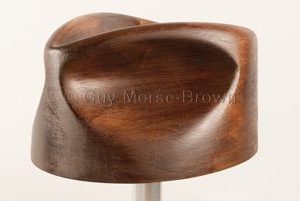 good idea to block on a surface which is slightly lower than normal so you can add your body weight to the process!
This is particularly useful if you're using heavier men's felts or wool felts (which are trickier to block). You are also going to need plenty of steam, this will be key to your success.
At the first stage, once your material is most with steam and very hot push the felt down over the crown and persuade it into the dimples with firm strokes of your hands and then pin the material into the base of the crown block as usual. If blocking a fedora in one piece you will have pushed the blocked crown through the brim and pinned it.
Check the material, whether straw or felt, to see that it hasn't dried out and if necessary, apply more steam.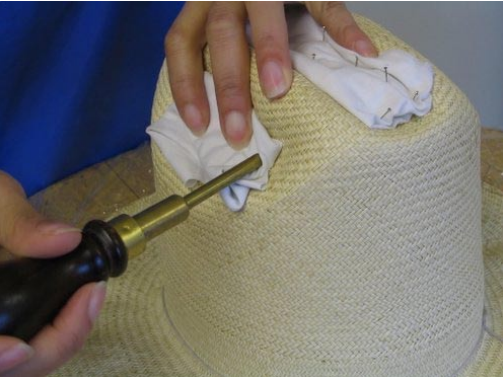 Roll up some scraps of cotton fabric into a rolled shape to fit the dimples. Press the roll into the dimple, load the pin pusher and pin through the fabric and straw into the block. Pin at either end, then in several places along the dimple, so that the fabric is held firmly in place against the block.
If the fabric tends to rise up the pin, allowing the straw to lift off the block, pin at an angle as shown. Use enough pins to hold the straw evenly against the block. Leave it to dry.
This technique works best with straw capelines. If you're using felt then read on…
Another great way to get your material to take the shape of fedora dimples
If your budget allows you could invest in an egg iron. Simply warm the egg in a flame or on a hot plate such as your kitchen hob or portable stove and away you go! You'll find it invaluable for use with fedora dimples and valleys, but the pointed end will also fit well into sharper valleys found in pork pie styles. We made a short demo video of the egg iron in use:
We'll be answering more of your questions soon, in the meantime if you're looking for inspiration and millinery projects why not head over to HATalk? With this code GMB20 claim 20% off a new HATalk Subscription.
If you're hoping to delve deeper and improve your skills then check out Hatcourses.com – which houses a list of millinery and hat-making courses around the world and available teachers.
Get your material to take the shape of the fedora dimples in your hat block easily with the help of our egg iron. You can find egg irons here: