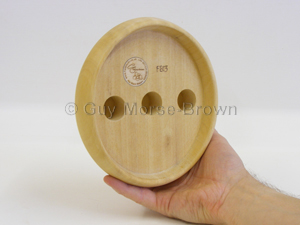 Pill box hats sit on the head without a brim and, as such, often need to be finished by turning the fabric back on itself at the bottom of the hat. In order to make this easier, all pill box crown blocks have the base hollowed out, creating a lip around which the fabric can be pinned. After blocking, the lining band can be stitched in, leaving a very tidy bottom edge to the hat.
Many customers choose a smaller size than head size to create a perching hat. 21″ and 21.5″ are common choices on the blocks that are sized.
IF YOU LIVE OUTSIDE THE UNITED KINGDOM, THE EX VAT PRICES ARE FOR YOU.
The blocks arrived today, safe and sound. They are fabulous and (as I am sure after witnessing the reaction of my wife) the first of many. Malte Möhle – Germany