Making hats with a down-turned brim. Can I use the blocking in one technique?
Yes, blocking in one is a common technique for down-turned brim hats. Before the advent of sinamay, felt and straw were the hatters and milliners' materials. These come partly shaped as cones (hoods) and capelines.  For very small-brimmed hats such as cloches, you can use a cone. For larger brimmed hats you can use a capeline. When you block your hat in one, it is made from either a single cone or a capeline to form a one-piece hat. If you want a large brim you must source large capelines. Alternatively, you can consider blocking the crown and brim separately (the crown from a cone, and the brim from a capeline).
Select your blocks
First, you must fix your crown and brim blocks together. As a side note, be careful about which crown block you choose because full height crown blocks are generally taller than you need. This is to allow you to vary the height of your finished crown when blocking separately. We offer a number of options to get the height you need for blocking in one, from exact height crown blocks to Multiblock Tips and varying height Multiblock Extensions.
Cover your chosen brim block with cling film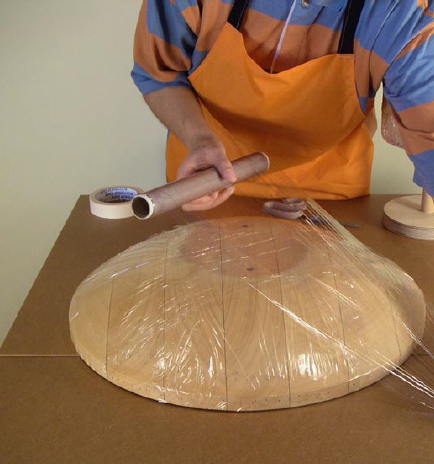 Tape the cling film securely to the underneath of the block.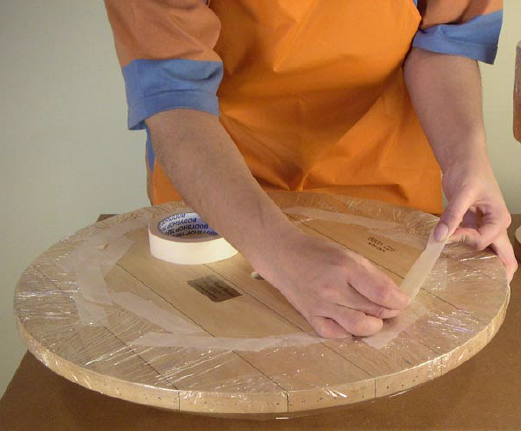 Next, cover your chosen crown and either screw or attach to brim with sticky fixers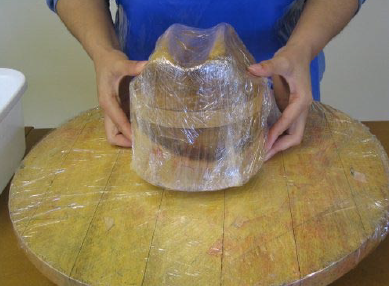 Stretch your steamed cone / capeline over the crown and brim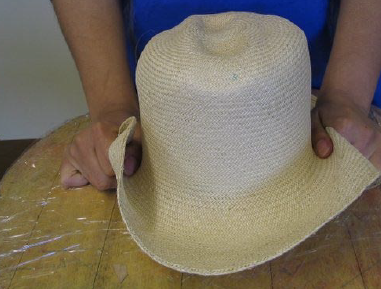 Tie blocked cone / capeline at the base of crown block with string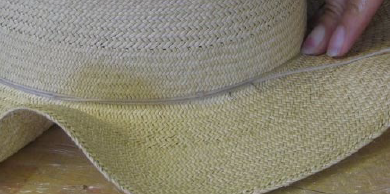 At this point, you may wish you had extra hands! A runner down is a very handy tool used to push your string down the blocked crown into the corner between crown and brim. This could be on a cloche block or any crown/brim combination where you need a well-defined line between crown and brim. Watch the demo below:
Pin brim edge or tie into string groove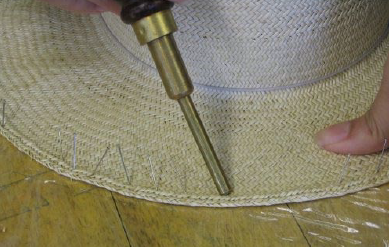 Pictured above is the ingenious Pin Pusher tool. The pin pusher's wooden handle fits comfortably into the hand and the metal tube into which the dressmaker's pin is dropped, head first, has a magnet at the bottom. Subsequently, this holds the pin inside so that it does not fall out, whatever the angle of the tool. Dressmaker's pins can be hard to press into wooden blocks. Using a thimble can be awkward as it easily slips off the pinhead. A pin pusher gives you extra mechanical power! After pinning into place, allow the hat to dry.
Remove the dry finished hat from blocks and stiffen.
Your hat is now ready to put in a sweatband, or a ribbon, and trim as you wish!
We'll be answering more of your questions soon, in the meantime if you're looking for inspiration and millinery projects why not head over to HATalk? With this code GMB20 claim 20% off a new HATalk Subscription.
If you're hoping to delve deeper and improve your skills then check out Hatcourses.com – which houses a list of millinery and hat-making courses around the world and available teachers.