How to take care of your wooden hat blocks.
Show your hat blocks some love!
Wooden hat blocks are not cheap and so you have probably wondered what is the best way to take care of your hat blocks? It is wise to look after your blocks as then they will serve you well for many years! Your hat blocks have been carefully made from kiln-dried timber. However, timber is a natural material, which is affected by changes in temperature and humidity.
In use, blocks go from being dry to be being wet and from being cold to being heated by steam. They are tools! Over time, it is very normal to have cracks here and there because of these conditions but unless the block falls apart it will remain totally useable. We regularly see many old blocks like this.
Firstly, we suggest that you always protect your block from moisture and possible colour transfer from wet fabrics. The best way you can care for your hat block is by covering it with cling film or a thin polythene sheet before use. Some milliners use tin foil. Use masking tape to hold the film in place. Don't use coverings more than once. If blocks do get stained by dye, don't try and remove this – just make a better job of covering them next time, and your fabrics will not be affected.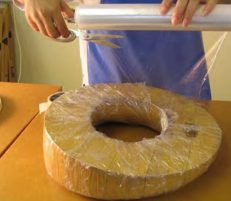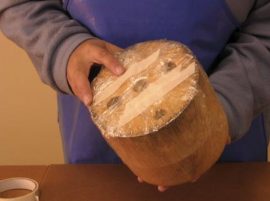 Do I need to oil my hat blocks?
We often get asked this from our customers in the USA. The answer is no, you don't need to oil them. There isn't really anything you need to do to your blocks, many old blocks were not varnished or oiled at all because they preferred that the wood would draw the moisture out of the felt. The best way to protect them during use is to cover them well with cling film or similar as mentioned above.  As far as possible, keep your blocks where they will not experience big changes in temperature or humidity as these may cause some warping. However, because of the way blocks are made, it is not usually enough to really affect the shape.
When pinning fabric into hat blocks.
Next, we want to make a note about using pins – a vital part of the hat-making process! Try to use pins that are the same fine gauge as dressmaker's pins. They are kinder to your hat blocks and far superior to both chart pins and drawing pins.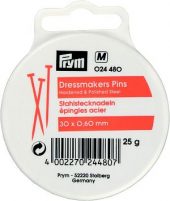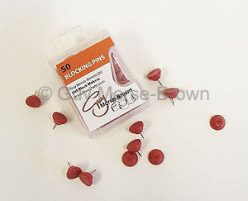 When pinning fabric inside a hollowed base pill-box block, it is advisable to place the pin as deep as possible in order to prevent damage to the rim of the block.
When pinning fabric inside a hollowed base pill-box block, it is advisable to place the pin as deep as possible in order to prevent damage to the rim of the block.

Pin into the hollow. While blocking pins are excellent for almost all blocking situations,  straight pins are sometimes needed for thicker fabric or when blocking dimples in blocks. Pin Pushers are ingenious tools. They have a place among the astute milliner's tool kit and are in fact indispensable in some blocking situations. The pin pusher's wooden handle fits comfortably into the hand and the metal tube into which the dressmaker's pin is dropped, head first, has a magnet at the bottom. This holds the pin inside so that it does not fall out, whatever the angle of the tool. Dressmaker's pins are hard to press into wooden blocks by hand and a thimble can be awkward to use, as it easily slips off the pinhead. A pin pusher gives you extra mechanical power!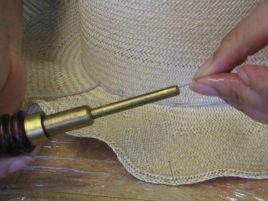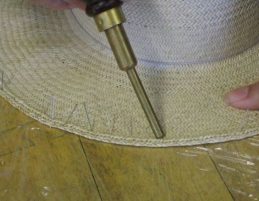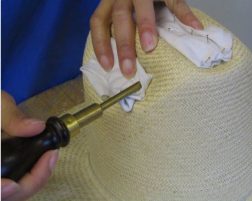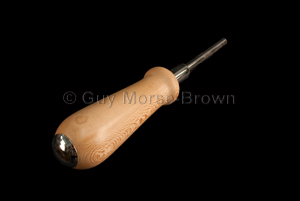 What's the best way to store hat blocks?
When not in use, your block should be kept in a cool and dry environment. More importantly, store your hat blocks away from any direct heat source and sunlight.
Our workshop is around 18 degrees and the humidity would be usually around 60%. These would be ideal conditions however, humidity is more crucial than temperature. If it's very dry then the wood will crack regardless of temperature. We would not advise placing blocks above or anywhere near a radiator because the air around it will be very dry. Try to keep them away from extremes of temperature and humidity. Modern houses do tend to be very dry so bear this in mind.
You can find the pins and Pin Pushers in our webshop:
We'll be answering more of your questions soon, in the meantime if you're looking for inspiration and millinery projects why not head over to HATalk? With this code GMB20 claim 20% off a new HATalk Subscription.
If you're hoping to delve deeper and improve your skills then check out Hatcourses.com – which houses a list of millinery and hat making courses around the world and available teachers.