This is our extensive range of crown blocks including berets and perchers of various shapes and sizes. Most crown blocks are available in oval or circular forms and the ovals can be slim or broad. See choosing your blocks for a full explanation. All sizes are available, from child to large adult. Finger grip and stand holes are provided and are 25mm in diameter. All our blocks are hand finished and sealed and will have a long life if used and stored with the care that high quality timber products deserve. Helpful hints are included with all blocks.
If you're new to millinery and are unsure which blocks to get staretd with, you might be interested in our 'block bundles'.
IF YOU LIVE OUTSIDE THE EUROPEAN UNION, THE EX VAT PRICES ARE FOR YOU.
My blocks are here and I am so in love with them I can hardly go home at the end of the day!  I'm working on a 40's style slanted pillbox and couldn't be happier!  Thank you SO very much for such a wonderful experience and such an exquisite product!  Hopefully I will be ordering a few men's blocks soon!  Until then, take care, and thank you thank you thank you!
Fielden Willmott – USA
Order arrived all present and correct. They look beautiful – like works of art. Can't wait to start my first hat. Jacquelyn Hagedorn, UK
The above shaped crowns can all be blocked very easily using a tipper made especially for the block. Another great tool for shaping the dimples on blocks such as these is one of our stainless steel egg irons. See them both on the accessories page.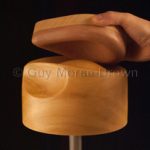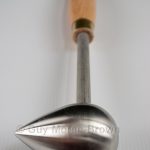 I just wanted to thank-you for all your help and efficiency. The blocks are beautiful. Arnavaz Lindsay, Australia