Velour Cloche Bundle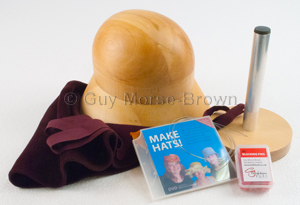 This is a fantastic way to get started in millinery. If you are completely new to it and not sure where to get all the things you need, then you are in the right place! Our Velour Cloche Bundle includes just about everything you need to make a stunning cloche hat. In the box you will find a cloche block comprising three of our multiblock parts (MBC, MBE2 & MB7), a block stand, blocking pins, brim wire and connectors, a DVD with full instructions for making your first hat, some elastic for the head band, felt stiffener*, and a high quality velour cloche hood with matching petersham ribbons to go with it. All you will need is a needle & thread and somewhere to work. Having the multiblock parts means that you can easily expand your range of blocks in the future simply by buying other tips or brims when you're ready.
*We can only ship the stiffener to buyers in the UK, if you live outside the UK you will have to source your own stiffener. We can recommend suppliers to you or suggest alternatives.
Ex VAT £187.50