CS1 – Millinery Knife/Corset Stay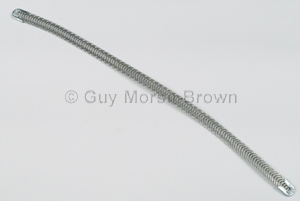 A corset stay – the type which looks like a flattened wire spring – is ideal for taking a blocked crown or brim off a hat block after stiffening and drying! They have smooth ends, which will not damage the hat fabric. Corset stays bend in all directions yet remain stiff. This means that they can be inserted between the cling film covering the block and the hat fabric and moved up and down to loosen it and enable you to take your blocked shape off without damaging it. (Approximate length 30cm). Very helpful indeed!
If you are not ordering blocks as well, this product can be purchased in our online shop.
Ex VAT £3.63